Nissan Rogue Service Manual: Liquid Gasket
REMOVAL OF LIQUID GASKET SEALING
After removing the bolts and nuts, separate the mating surface and remove the liquid gasket using Tool (A).
Tool Number : KV10111100 (J-37228)
CAUTION: Be careful not to damage the mating surfaces.
In areas where the cutter is difficult to use, use a plastic hammer to lightly tap (1) the cutter where the liquid gasket is applied. Use a plastic hammer to slide (2) the cutter by tapping on the side.
CAUTION: Do not damage the mating surfaces.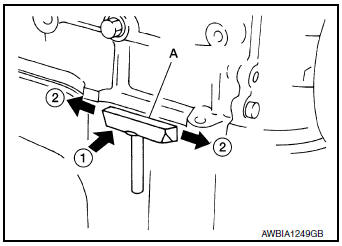 LIQUID GASKET APPLICATION PROCEDURE
Using suitable tool (A), remove old liquid gasket adhering to the liquid gasket application surface and the mating surface.
Remove liquid gasket completely from the groove of the liquid gasket application surface, bolts, and bolt holes.
Thoroughly clean the mating surfaces and remove adhering moisture, grease and foreign materials.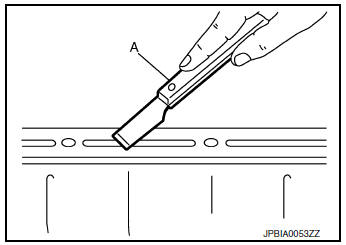 Attach liquid gasket tube to the suitable tool.

Use Genuine Silicone RTV Sealant, or equivalent. Refer to GI-22, "Recommended Chemical Products and Sealants".

Apply liquid gasket without gaps to the specified location according to the specified dimensions.
If there is a groove for liquid gasket application, apply liquid gasket to the groove.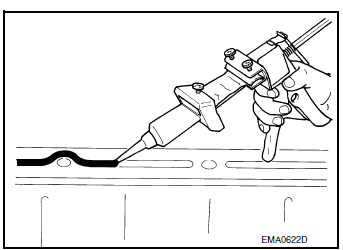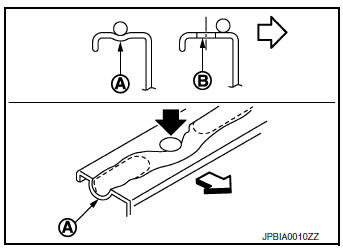 (A) : Groove


: Inside bolt hole
Within five minutes of liquid gasket application, install the mating component.
If liquid gasket protrudes, wipe it off immediately.
Do not retighten bolts or nuts after the installation.
After 30 minutes or more have passed from the installation, fill engine oil and engine coolant.
CAUTION: If there are specific instructions in the procedures contained in this manual concerning liquid gasket application, observe them.
Handling and disposal of sodium-filled exhaust valves requires special care and consideration. Under conditions such as breakage with subsequent contact with water, metal sodium which lines the inne ...
NOISE, VIBRATION, AND HARSHNESS (NVH) TROUBLESHOOTING NVH troubleshooting - engine noise Valve mechanism Intake and exhaust valve Water pump Timing chain Dr ...
Other materials:
Fuel level sensor unit, fuel filter and fuel pump assembly
Exploded View 1. Lock ring 2. O-ring 3. Fuel filter and fuel pump assembly 4. Fuel level sensor and fuel tank temperature sensor 5. Lock ring 6. O-ring 7. Sub fuel level sensor assembly 8. Fuel tank Fron CAUTION: Do not remove or disassemble parts unless instructed as shown. R ...
Basic inspection
Work Procedure 1.INSPECTION START Check service records for any recent repairs that may indicate a related malfunction, or a current need for scheduled maintenance. Open engine hood and check the following: Harness connectors for improper connections Wirin ...
Steering gear and linkage
Exploded View REMOVAL AND INSTALLATION Cotter pin Steering gear Heat shiel Removal and Installation REMOVAL Set the front wheels and tires to the straight-ahead position. Remove the floor cover. Refer to ST-12, "Exploded View". Remov ...
В© 2014-2021 Copyright www.nirogue.com