Nissan Rogue Service Manual: Replacement operations
Description
This section is prepared for technicians who have attained a high level of skill and experience in repairing collision-damaged vehicles and also use modern service tools and equipment. Persons unfamiliar with body repair techniques should not attempt to repair collision-damaged vehicles by using this section.
Technicians are also encouraged to read Body Repair Manual (Fundamentals) in order to ensure that the original functions and quality of the vehicle can be maintained. The Body Repair Manual (Fundamentals) contains additional information, including cautions and warning, that are not including in this manual. Technicians should refer to both manuals to ensure proper repairs.
Please note that these information are prepared for worldwide usage, and as such, certain procedures might not apply in some regions or countries.
The symbols used in this section for welding operations are shown below.
Symbol marks

Description

2-spot welds
3-spot welds
MIG plug weld
MIG seam weld / Point weld
Front pillar butt joint can be determined anywhere within shaded area as shown in the figure. The best location for the butt joint is at position A due to the construction of the vehicle. Refer to the front pillar section.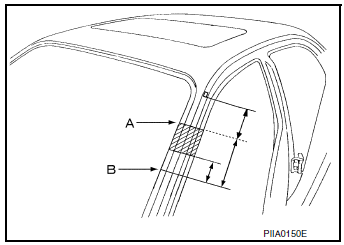 Determine cutting position and record distance from the locating indent. Use this distance when cutting the service part. Cut outer front pillar over 60 mm (2.36 in) above inner front pillar cut position.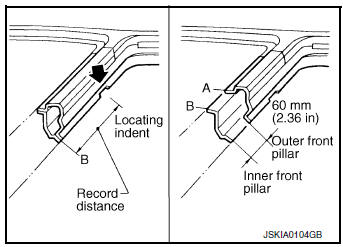 Prepare a cutting jig to make outer pillar easier to cut. Also, this will permit service part to be accurately cut at joint position.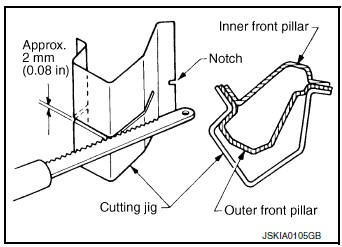 An example of cutting operation using a cutting jig is as follows.
Mark cutting lines.
Cut position of outer pillar
Cut position of inner pillar
Align cutting line with notch on jig. Clamp jig to pillar.
Cut outer pillar along groove of jig (at position A).
Remove jig and cut remaining portions.
Cut inner pillar at position B in same manner.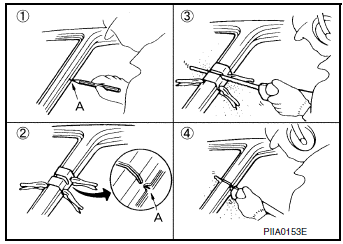 Hoodledge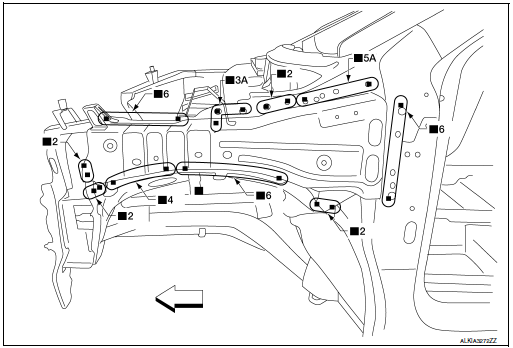 Replacement parts

Front
Hoodledge Reinforcement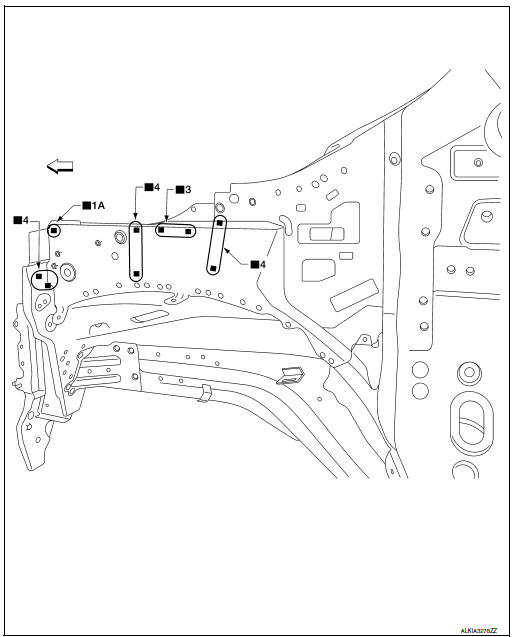 Replacement parts
LH Hoodledge reinforcement

Front
Radiator Core Support Side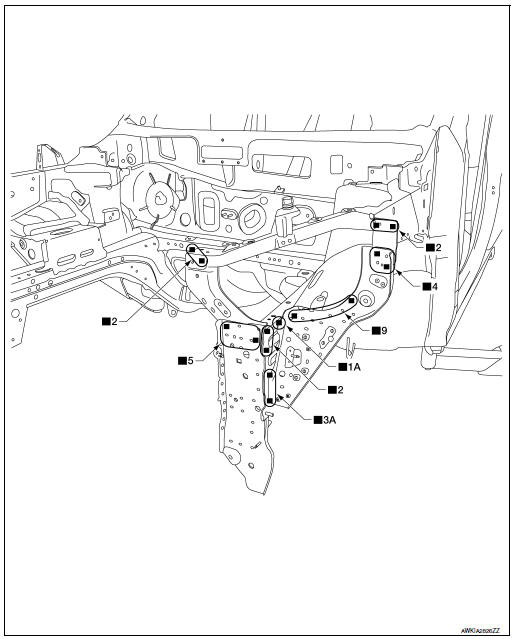 Replacement parts
Radiator core support side

Front
Strut Housing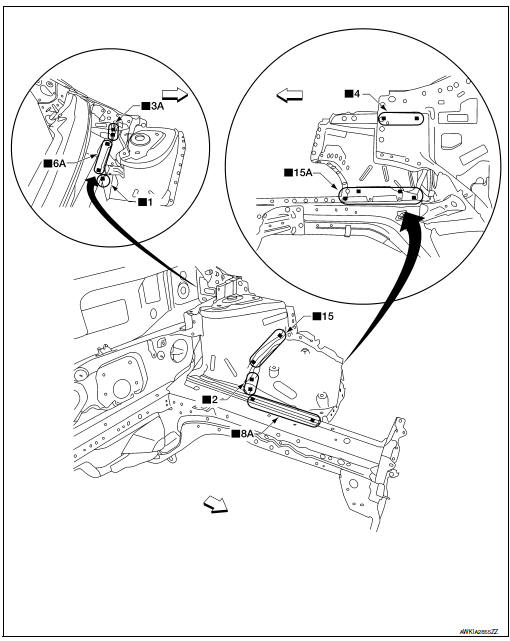 Replacement parts
Strut housing
Strut housing extension

Front
Front Side Member Outer
Work after hoodledge has been removed.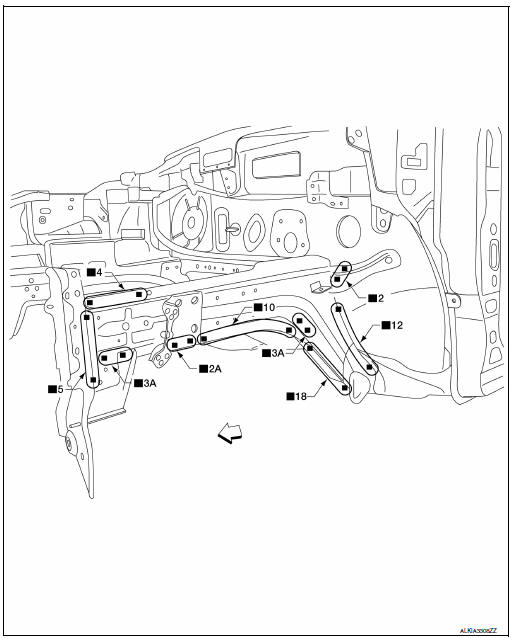 Replacement parts
Front side member closing plate assembly (LH)

Front
Front Side Member Inner
Work after hoodledge and strut housing has been removed.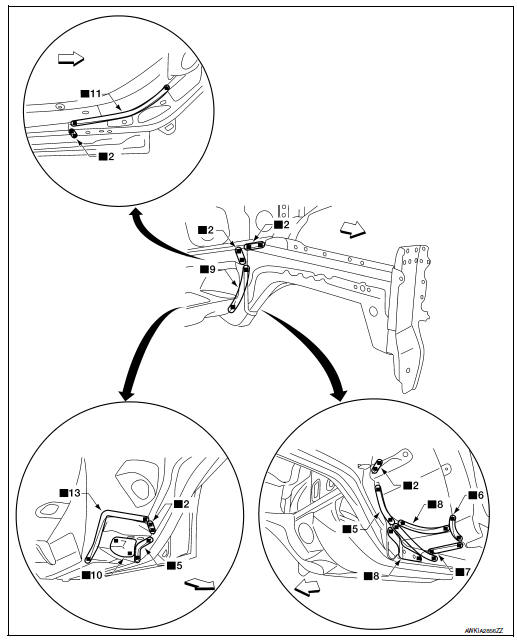 Replacement parts
Front side member inner assembly (LH)

Front
Front Side Member (Partial Replacement)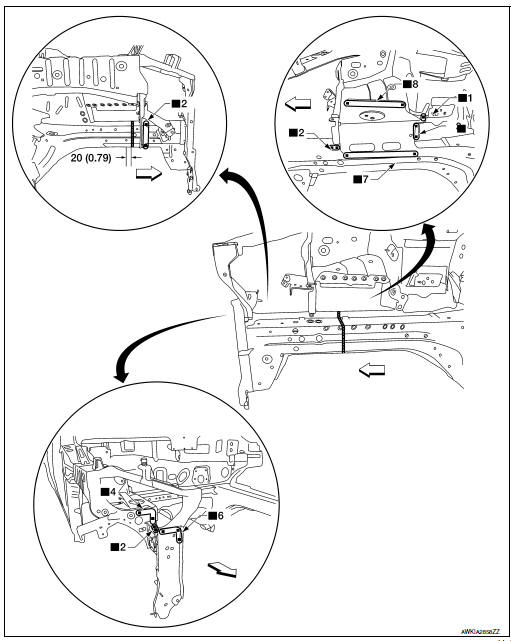 Replacement parts
Front side member (RH)
Front side member closing plate assembly (RH)

Front
Front Pillar
Work after hoodledge reinforcement has been removed.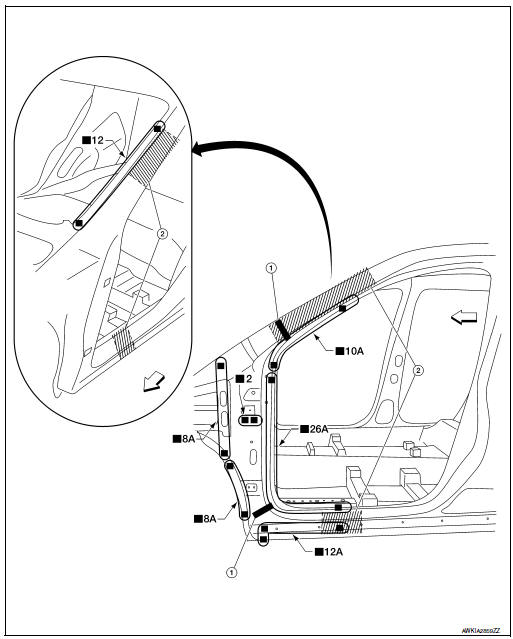 Replacement parts
Urethane foam
Sectioning location

Front
View B: Before installing outer front side body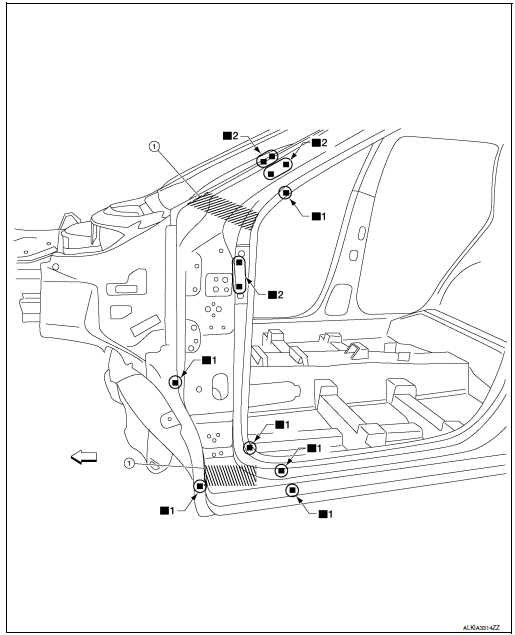 Replacement parts
Inner front pillar reinforcement
Urethane foam

Front
Center Pillar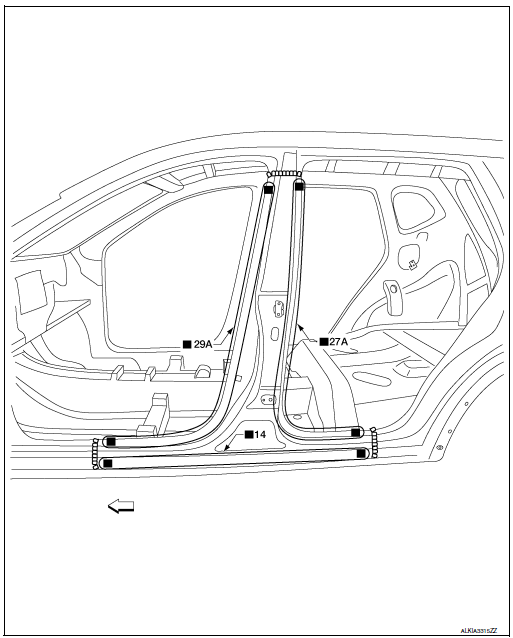 Replacement parts

Front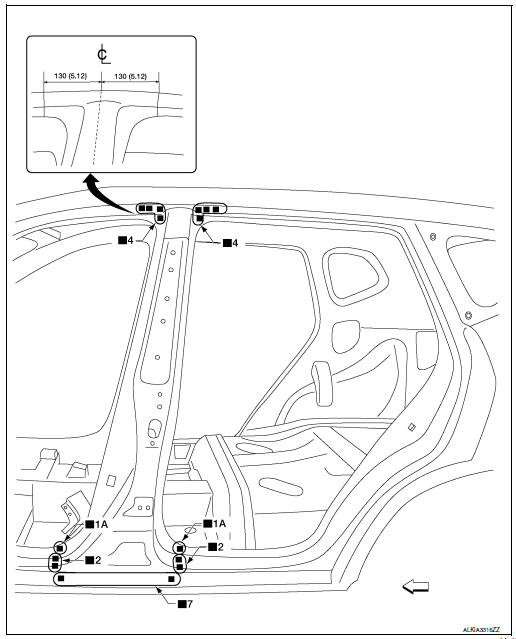 Replacement parts
Center pillar reinforcement

Front
Rear Fender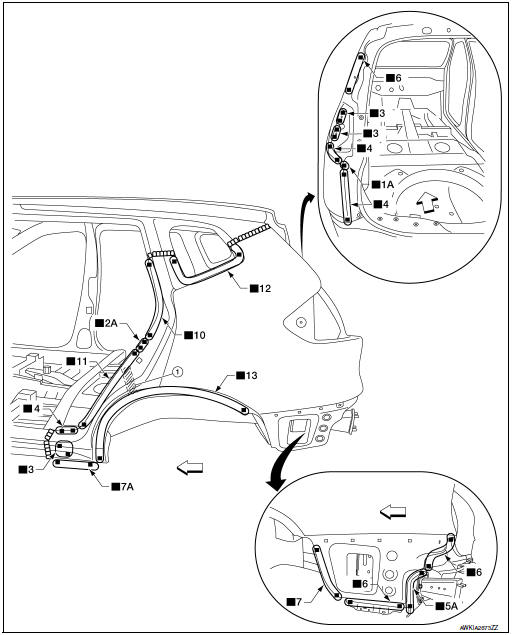 Replacement parts
Rear fender assembly (LH)
Urethane foam

Front
Rear Panel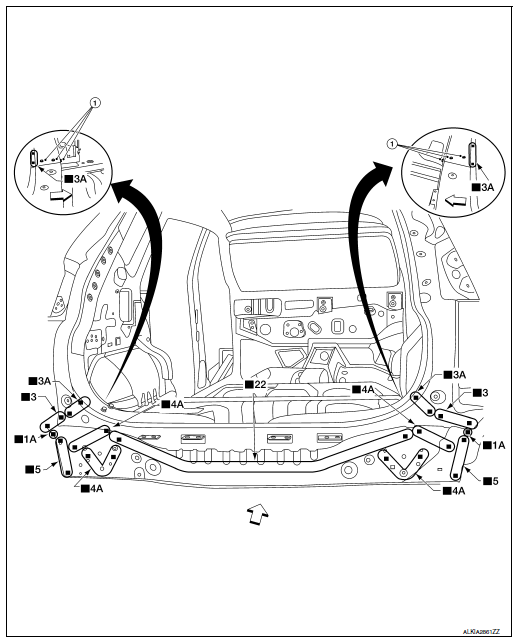 Replacement parts
Bolt

Front
Rear Floor Rear
Work after rear panel has been removed.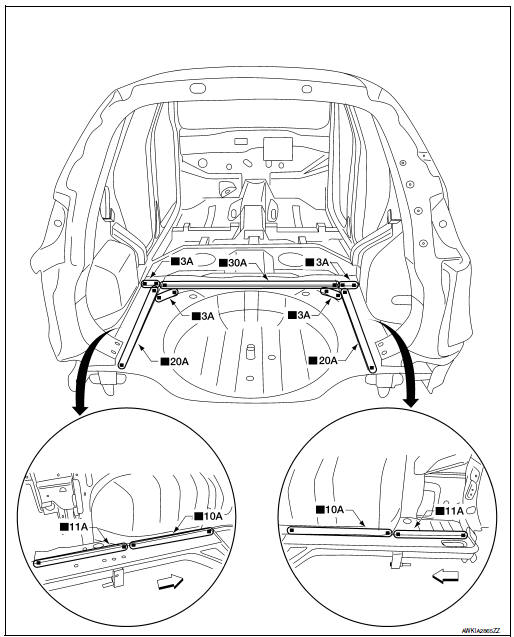 Replacement parts
Rear floor rear
Rear floor rear side

Front
Rear Side Member Extension
Work after rear panel has been removed.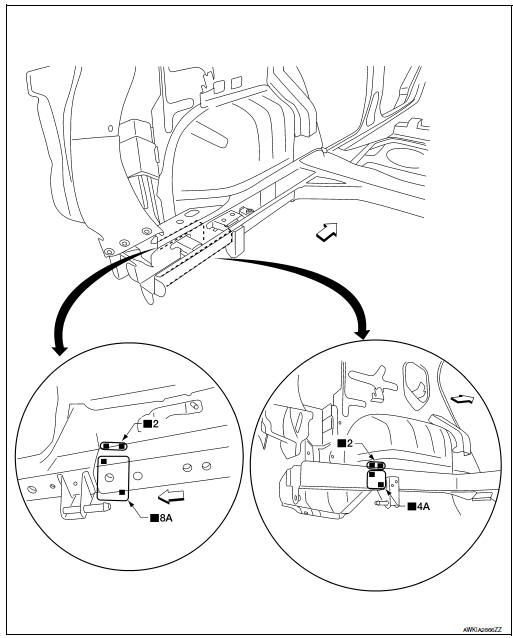 Replacement parts
Rear side member extension (LH)

Front
Body Construction Outer body side Outer front pillar reinforcement Upper inner front pillar Rear hoodledge reinforcement Side dash Inner front pillar reinforcement Lower ...
BODY ALIGNMENT Body Center Marks mark has been placed on each part of the body to indicate the vehicle center. When repairing parts damaged by an accident which might affect the vehicle frame (me ...
Other materials:
Periodic maintenance
HEADLAMP AIMING ADJUSTMENT Inspection PREPARATION BEFORE ADJUSTING Before performing aiming adjustment, check the following: Make sure all tires are inflated to correct pressure. Place vehicle and screen on level surface. Make sure there is no load in vehicle other than ...
Three-way catalyst
The three-way catalyst is an emission control device installed in the exhaust system. Exhaust gases in the three-way catalyst are burned at high temperatures to help reduce pollutants. WARNING The exhaust gas and the exhaust system are very hot. Keep people, animals or f ...
The braking distance is long
Description Brake stopping distance is long when ABS function is operated. Diagnosis Procedure CAUTION: Brake stopping distance on slippery road like rough road, gravel road or snowy road may become longer when ABS is operated than when ABS is not operated 1.CHECK BRAKING FORCE Check brake ...
В© 2014-2019 Copyright www.nirogue.com