Nissan Rogue Service Manual: Windshield glass
Exploded View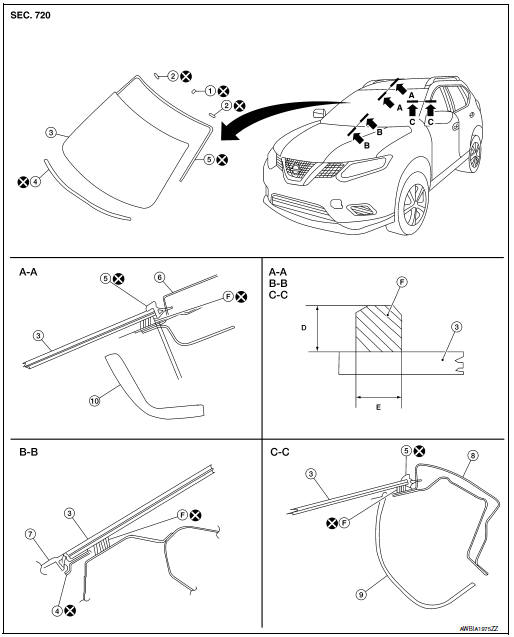 Mirror base
Spacer
Windshield glass
Windshield glass lower molding
Windshield glass molding
Roof
Cowl top cover
ody side outer
ront pillar finisher
Headlining
7.0 mm (0.28 in)
12 mm (0.47 in)
Adhesive
Removal and Installation
REMOVAL
Remove inside mirror. Refer to MIR-20, "Removal and Installation".
Partially remove the headlining (front edge). Refer to INT-29, "Exploded View".
Remove the cowl top extension. Refer to EXT-25, "Exploded View".
Remove windshield glass using piano wire or power cutting tool (A) and an inflatable pump bag (B).

Apply protective tape around the windshield glass to protect the painted surface from damage.
If the windshield glass is to be reused, mark the body and the glass with matching marks.
WARNING: When cutting the glass from the vehicle, always wear safety glasses and heavy gloves to help prevent glass splinters from entering your eyes or cutting your hands.
CAUTION:
Be careful not to scratch the glass when removing.
Do not set or stand glass on its edge. Small chips may develop into cracks.
Apply protective tape around the windshield glass to protect the painted surface from damage.
INSTALLATION
Installation is in the reverse order of removal.
Use a genuine NISSAN Urethane Adhesive Kit (if available) or equivalent and follow the instructions furnished with it.
Adhesive shall be continuously applied to assure watertightness. Glass installation shall be finished within five minutes after applying the adhesive.
While the urethane adhesive is curing, open a door window. This will prevent the glass from being forced out by passenger compartment air pressure when a door is closed.
The molding must be installed securely so that it is in position and leaves no gap.
Inform the customer that the vehicle should remain stationary until the urethane adhesive has completely cured (preferably 24 hours). Curing time varies with temperature and humidity.
WARNING:
CAUTION:
Do not use an adhesive which is past its usable term. Shelf life of this product is limited to six months after the date of manufacture. Carefully adhere to the expiration or manufacture date printed on the box.
Keep primers and adhesive in a cool, dry place. Ideally, they should be stored in a refrigerator.
Do not leave primers or adhesive cartridge unattended with their caps open or off.
The vehicle should not be driven for at least 24 hours or until the urethane adhesive has completely cured. Curing time varies depending on temperature and humidity. The curing time will increase under lower temperatures and lower humidity.
PRIMER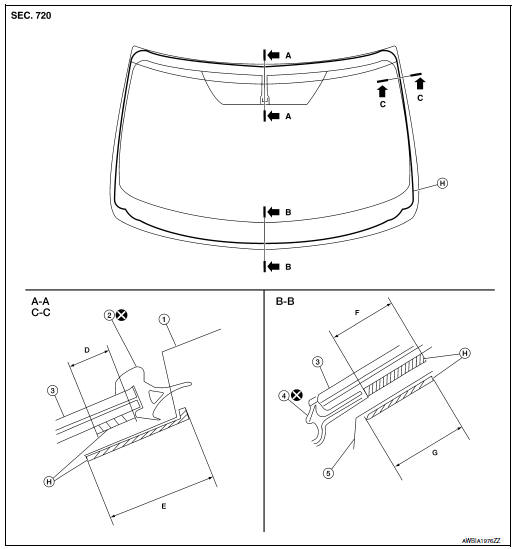 Body
Windshield glass molding
Windshield glass
Windshield glass lower molding
Cowl top cover
16 mm (0.63 in)
22 mm (0.87 in)
14 mm (0.55 in)
20 mm (0.79 in)
Primer
INSPECTION
Repairing Water Leaks for Windshield
Leaks can be repaired without removing and reinstalling glass.
If water is leaking between the urethane adhesive material and body or glass, determine the extent of leak.
This can be done by applying water to the windshield area while pushing glass outward.
To stop the leak, apply primer (if necessary) and then urethane adhesive to the leak point.
Exploded View Front door Front regulator Front power window motor Front door glass rear run Front door glass front run Front door glass Front door glass rubber run Remo ...
Other materials:
Approach warning
Approach warning NOTE: The warning chime may sound and the FCW indicator may blink when the distance sensor detects vehicles in other lanes A or objects on the side of the road A . This may cause the FCW system to operate inappropriately. The distance sensor may detect these objects wh ...
Basic inspection
DIAGNOSIS AND REPAIR WORKFLOW Work Flow OVERALL SEQUENCE DETAILED FLOW 1.GET INFORMATION FOR SYMPTOM Get the detailed information from the customer about the symptom (the condition and the environment when the incident/malfunction occurred). >> GO TO 2. 2.CHECK DTC Ch ...
P0863 TCM communication
DTC Description DTC DETECTION LOGIC DTC CONSULT screen terms (Trouble diagnosis content) DTC detection condition P0863 CONTROL UNIT (CAN) (TCM Communication Circuit) An error is detected at the initial CAN diagnosis of TCM. POSSIBLE CAUSE TCM FAIL-SAFE ...
В© 2014-2021 Copyright www.nirogue.com