Nissan Rogue Service Manual: Quarter window glass
Exploded View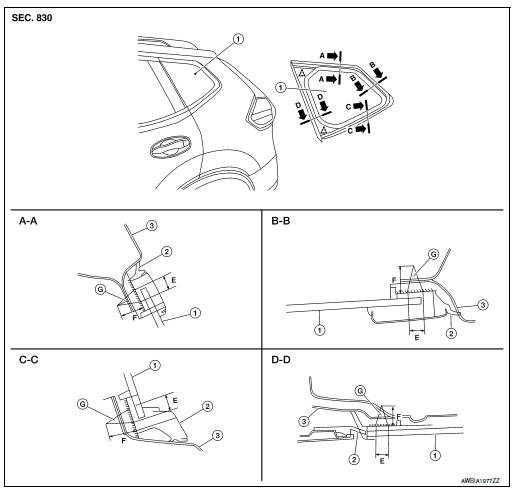 Quarter window glass
Quarter window glass molding
Body side outer
7.0 mm (0.28 in)
12.0 (0.47 in)
Adhesive

Clip
Removal and Installation
REMOVAL
Remove the luggage side upper finisher. Refer to INT-36, "LUGGAGE SIDE UPPER FINISHER : Removal and Installation".
Remove quarter glass from the inside of vehicle using a piano wire or cutting tool and an inflatable bag.
WARNING: When cutting the quarter window from the vehicle, always wear safety glasses and heavy gloves to help prevent glass splinters from entering your eyes or cutting your hands.
CAUTION:
Apply protective tape around the quarter glass to protect the painted surface.
Be careful not to scratch the quarter window glass when removing.
Do not set or stand the quarter window glass on its edge. Small chips may develop into cracks.
INSTALLATION
Installation is in the reverse order of removal.
Install the quarter glass from outside the vehicle to ensure that it is even around the top, bottom and sides of the opening.
Use a genuine NISSAN Urethane Adhesive Kit (if available) or equivalent and follow the instructions furnished with it.
While the urethane adhesive is curing, open a door window. This will prevent the glass from being forced out by passenger compartment air pressure when a door is closed.
Check gap along bottom to confirm that glass does not contact sheet metal.
Inform the customer that the vehicle should remain stationary until the urethane adhesive has completely cured (preferably 24 hours). Curing time varies with temperature and humidity.
WARNING:
CAUTION:
Do not use an adhesive which is past its usable term. Shelf life of this product is limited to six months after the date of manufacture. Carefully adhere to the expiration or manufacture date printed on the box.
Keep primers and adhesive in a cool, dry place. Ideally, they should be stored in a refrigerator.
Do not leave primers or adhesive cartridge unattended with their caps open or off.
The vehicle should not be driven for at least 24 hours or until the urethane adhesive has completely cured. Curing time varies depending on temperature and humidity. The curing time will increase under lower temperatures and lower humidity.
Inspection
REPAIRING WATER LEAKAGE FOR QUARTER WINDOW GLASS
Leakage can be repaired without removing glass.
Determine the extent of leakage if water is leaking between the urethane adhesive material and body or glass.
This can be done by applying water to the side window glass area while pushing glass outward.
Apply primer (if necessary) and then urethane adhesive to the leakage point to stop the leakage.
Removal and Installation REMOVAL Remove rear door glass regulator. Refer to GW-22, "Removal and Installation". Remove screws (A) and rear door power window motor (1) fr ...
Exploded View Back door window glass Clip Clip Removal and Installation REMOVAL Remove back door finisher. Refer to INT-38, "Removal and Installation". &nbsp ...
Other materials:
The fuel gauge does not move
Description Fuel gauge does not move from a certain position. Diagnosis Procedure 1.CONDUCTING THE COMBINATION METER SELF-DIAGNOSIS MODE Perform the self-diagnosis mode of combination meter, and then check that the fuel gauge operates normally. Refer to MWI-19, "Description". I ...
Brake pedal vibration or operation sound occurs
Description Brake pedal vibrates and motor sound from ABS actuator and electric unit (control unit) occurs, when the engine starts. Brake pedal vibrates during braking. CAUTION: Vibration may be felt during brake pedal is lightly depressed (just placing a foot on it) in the fo ...
Fuel efficient driving tips
Follow these easy-to-use Fuel Efficient Driving Tips to help you achieve the most fuel economy from your vehicle. Use Smooth Accelerator and Brake Pedal Application Avoid rapid starts and stops. Use smooth, gentle accelerator and brake application whenever possibl ...
В© 2014-2022 Copyright www.nirogue.com