Nissan Rogue Service Manual: Oil cooler
Exploded View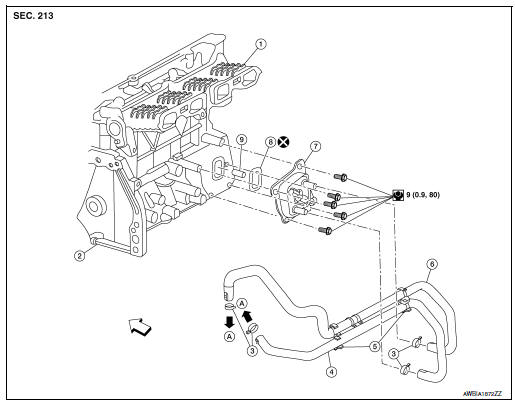 Intake manifold
Cylinder block
Clamp
Water hose
Water hose clip
Water hose
Oil cooler
Gasket
Oil cooler relief valve

Front
Removal and Installation
WARNING: Be careful not to burn yourself, as engine oil and engine coolant may be hot.
NOTE: When removing components such as hoses, tubes/lines, etc., cap or plug openings to prevent fluid from spilling.
REMOVAL
Drain engine coolant. Refer to CO-8, "Draining".
Remove front air spoiler (RH). Refer to EXT-16, "Exploded View"
Remove fender protector (RH). Refer to EXT-28, "FENDER PROTECTOR : Exploded View".
Disconnect water hoses from the oil cooler.
Remove oil cooler bolts in reverse numerical order.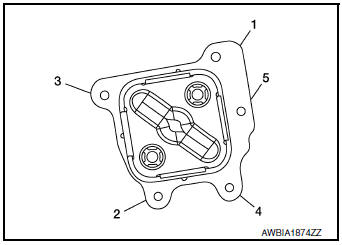 Remove oil cooler.
CAUTION:
Be careful not to get burned when engine and engine oil may be hot.
When removing, prepare a shop cloth to absorb any engine oil leaks or spillage.
Completely wipe off any engine oil that adheres to engine and vehicle.
Remove relief valve and O-ring, (if necessary).
INSTALLATION
Installation is in the reverse order of removal.
Tighten oil cooler to specification as shown.
CAUTION:
Do not reuse O-ring.
Ensure O-ring and oil cooler sealing surface is free from dust, flaws, or deformation.
Ensure water hose assembly is installed without kinks or areas of collapse.
Replace relief valve, if removed.
Inspection
INSPECTION AFTER REMOVAL
Oil Cooler
Check oil cooler for cracks. Check oil cooler for clogging by blowing through engine coolant inlet. If necessary, replace oil cooler.
Relief valve
Inspect relief valve for movement, cracks, and breaks by pushing the ball. If replacement is necessary, remove the valve by prying it out using a suitable tool. Install a new valve by tapping it in place.
INSPECTION AFTER INSTALLATION
Check the engine oil level and the engine coolant level and add engine oil and engine coolant. Refer to LU-7, "Inspection" and CO-8, "Inspection".
Start the engine, and check that there are no leaks of engine oil or engine coolant.
Stop the engine and wait for 5 minutes.
Check the engine oil level and the engine coolant level again. Refer to LU-7, "Inspection" and CO-8, "Inspection".
Exploded View Front cover (Oil pump body united) Outer rotor Inner rotor Oil pump cover Regulator valve Regulator valve spring Regulator valve plug CAUTION ...
Other materials:
Monitor, climate, audio, phone and voice recognition systems
WARNING Positioning of the heating or air conditioning controls and display controls should not be done while driving in order that full attention may be given to the driving operation. Do not disassemble or modify this system. If you do, it may result ...
P0643 sensor power supply
Description ECM supplies a voltage of 5 V to some of the sensors systematically divided into 2 groups, respectively. Accordingly, when a short circuit develops in a sensor power source, a malfunction may occur simultaneously in the sensors belonging to the same group as the short-circuited ...
P0300, P0301, P0302, P0303, P0304 misfire
DTC Description DTC DETECTION LOGIC When a misfire occurs, engine speed will fluctuate. If the engine speed fluctuates enough to cause the crankshaft position (CKP) sensor (POS) signal to vary, ECM can determine that a misfire is occurring. Sensor Input signal to ECM ECM functio ...
В© 2014-2022 Copyright www.nirogue.com