Nissan Rogue Service Manual: System
System Diagram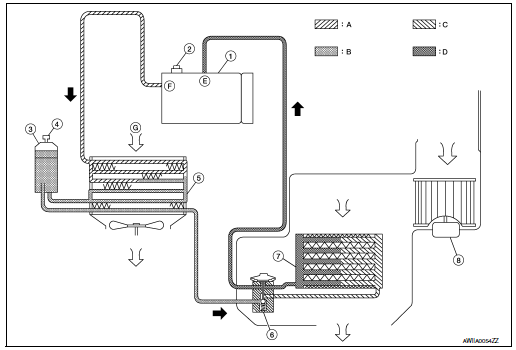 Compressor
Pressure relief valve
Liquid tank
Refrigerant pressure sensor
Condenser
Expansion valve
Evaporator
Blower motor
High-pressure gas
High-pressure liquid
Low-pressure liquid
Low-pressure gas
Suction port
Discharge port
Outside air
System Description
REFRIGERANT CYCLE
Refrigerant Flow
The refrigerant from the compressor flows through the condenser and liquid tank, evaporator, and returns to the compressor. The refrigerant evaporation in the evaporator is controlled by an expansion valve.
Freeze Protection
To prevent evaporator from freezing up, the evaporator air temperature is monitored and the voltage signal to the A/C auto amp. makes the A/C relay go OFF and stop the compressor.
REFRIGERANT SYSTEM PROTECTION
Refrigerant Pressure Sensor
The refrigerant system is protected against excessively high or low pressures by the refrigerant pressure sensor, located on the liquid tank. The refrigerant pressure sensor detects the pressure inside the refrigerant line and sends the voltage signal to the ECM if the system pressure rises above or falls below the specifications.
ECM turns the A/C relay to OFF and stops the compressor when the high-pressure side detected by refrigerant pressure sensor to have the following conditions:
Approximately 3,120 kPa (31.8 kg/cm2, 452 psi) or more (Engine speed is 1,500 rpm or more.)
Approximately 2,740 kPa (27.9 kg/cm2, 397 psi) or more (Engine speed is less than 1,500 rpm.)
Approximately 120 kPa (1.2 kg/cm2, 17 psi) or less
Pressure Relief Valve
The refrigerant system is also protected by a pressure relief valve, located in the rear head of the compressor.
The release port on the pressure relief valve automatically opens and releases refrigerant into the atmosphere when the pressure of refrigerant in the system increases to an unusual level [more than 3,800 kPa (38.8 kg/ cm2, 551 psi)].
Component Parts Location Condenser Compressor Refrigerant pressure sensor Liquid tank Expansion valve Evaporator Component Description Component Description ...
DIAGNOSIS AND REPAIR WORKFLOW Workflow OVERALL SEQUENCE DETAILED FLOW 1.INTERVIEW CUSTOMER Interview the customer to obtain as much information as possible about the conditions and environm ...
Other materials:
Wiring diagram
REAR WINDOW DEFOGGER SYSTEM Wiring Diagram ...
System description
COMPONENT PARTS Component Part Location RH side of engine compartment RH front of vehicle (view with front bumper fascia removed) No. Component Description 1 IPDM E/R Refer to PCS-5, "RELAY CONTROL SYSTEM : System Description". ...
B2268 water temp
Description The engine coolant temperature signal is transmitted from ECM to the combination meter via CAN communication. DTC Logic DTC DETECTION LOGIC DTC CONSULT Detection Condition Possible Cause B2268 WATER TEMP [B2268] ECM continuously tra ...
В© 2014-2021 Copyright www.nirogue.com